Media Companion is the original free to use Movie/TV Show manager and organizer that offers full XBMC integration.
With Support for Movies, TV Series, Home Videos, and now Music Video with distinction between Music Video clip and Music Video Concert.

Simply put, Media Companion offers the facility to gather information from the Internet and make this information available to you in an organized manner.
The information collected includes such things as posters, backdrops, plot summary,actors and actor images, ratings etc, and are placed with your video files for easy addition to your library.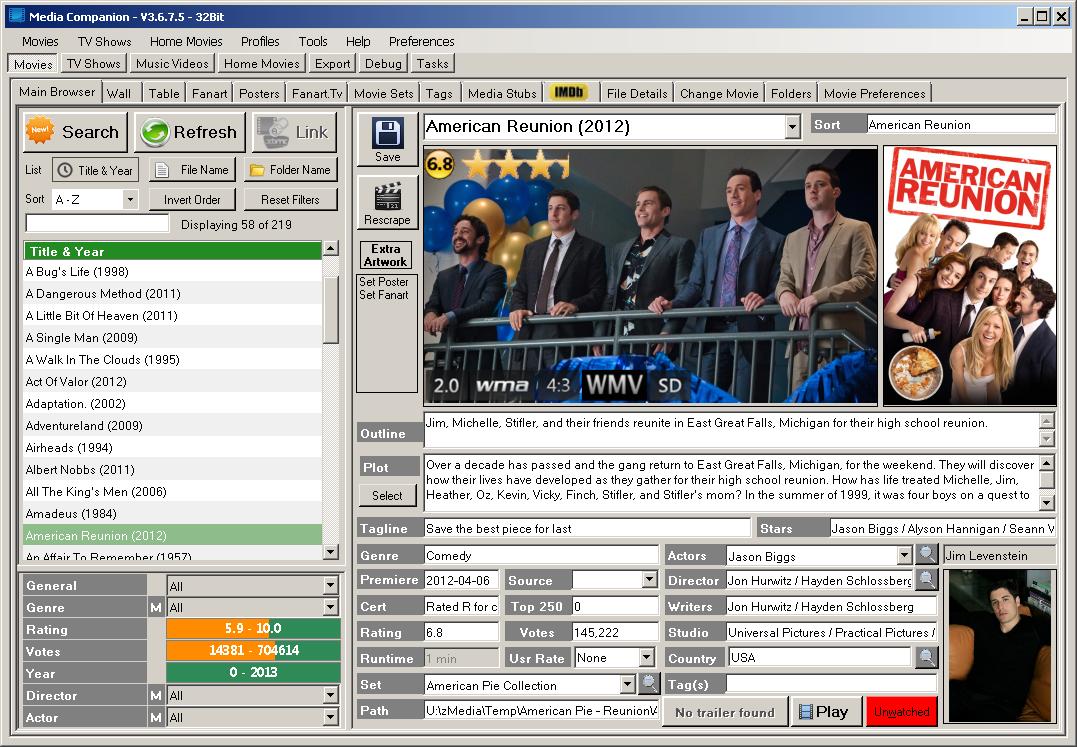 Media Companion Currently supports Movies and TV Shows.
Movie Features include.
XBMC Movies Link - Changes in MC update XBMC. TV Support will follow later. See Documentation
Scrape Blu-Ray Folder structure.
Scrape movie information from IMDB using the inbuilt scraper
Scrape movie information from TMDB using XBMC scraper.
Download movie posters from any of IMDb, TMDb, IMPA, and MPDB.
Download movie backdrops from TMDb.
Download artwork from Fanart.Tv
Download movie trailers from IMDb & Yahoo!
View and edit all obtained data.
Saving of Media Tags in NFO.
Include 'ExtraThumbs' & xtraFanart(For skins that support this function, movies need to be in individual folders)
Auto-Rename using custom or set parameters
Auto-Rename movie's Folder using custom or set parameters
Search and browse movies using a selection of filters and searches.
Export to HTML movie details & artwork, with customizable templates.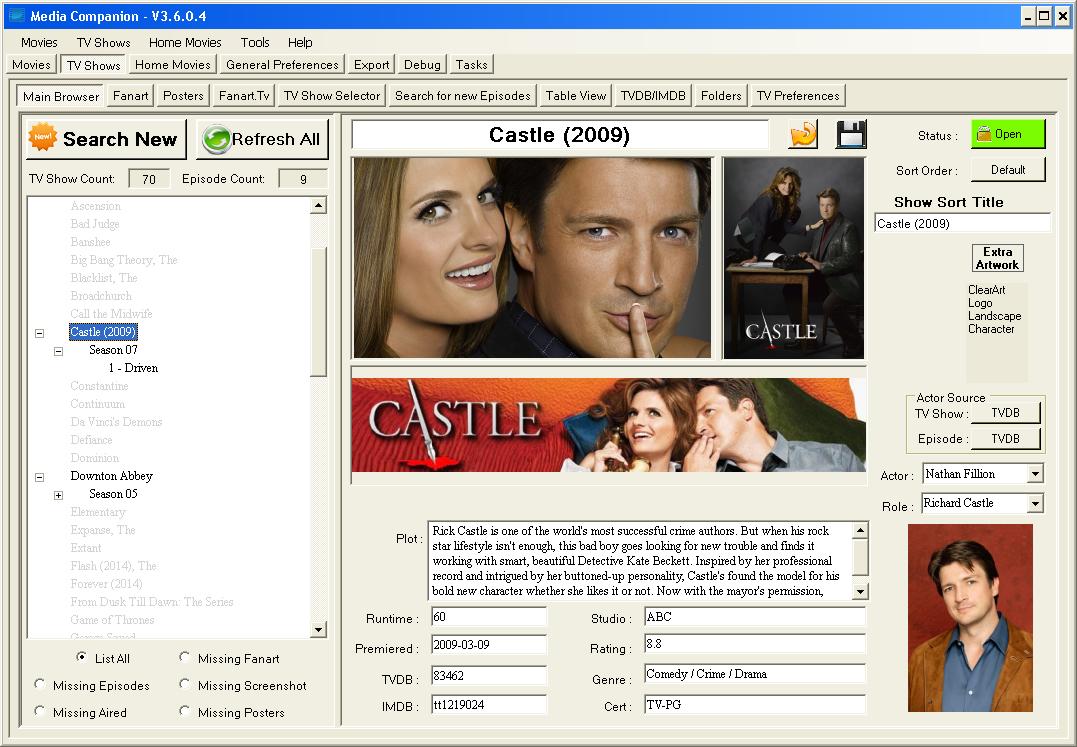 TV Show features include.
Choice of inbuilt TVDb scraper or XBMC TVDb scraper
Automatically download information for TV Shows and episodes from TVDb.
Download actor images from either TVDb or IMDb.
Download and select poster for Show and individual seasons.
Download episode screen shot.
Download artwork from Fanart.Tv
Create screen shot if download is not available.
Automatically rename episodes using set or custom parameters
Include 'ExtraThumbs' & ExtraFanart (For skins that support this function)
Saving of Media Tags in NFO
Display episodes missing from your collection.
Display episodes in aired date order (so you can see where the specials fit in)
Export to HTML TV details with customizable templates.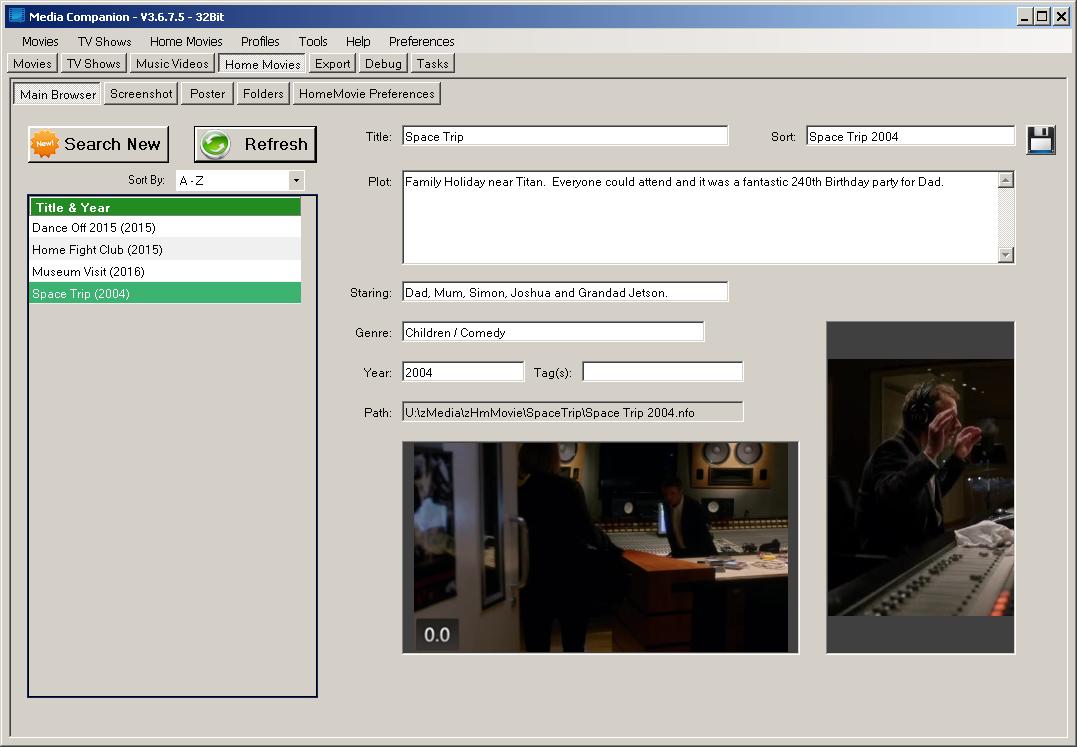 Home Movie features:
Addition of home made or movies with no downloading information
Separate Home Movie Folder
Setting Title of Home Movie, and Sort Title
Outline, Staring and year fields.
Creation of Screen-Shot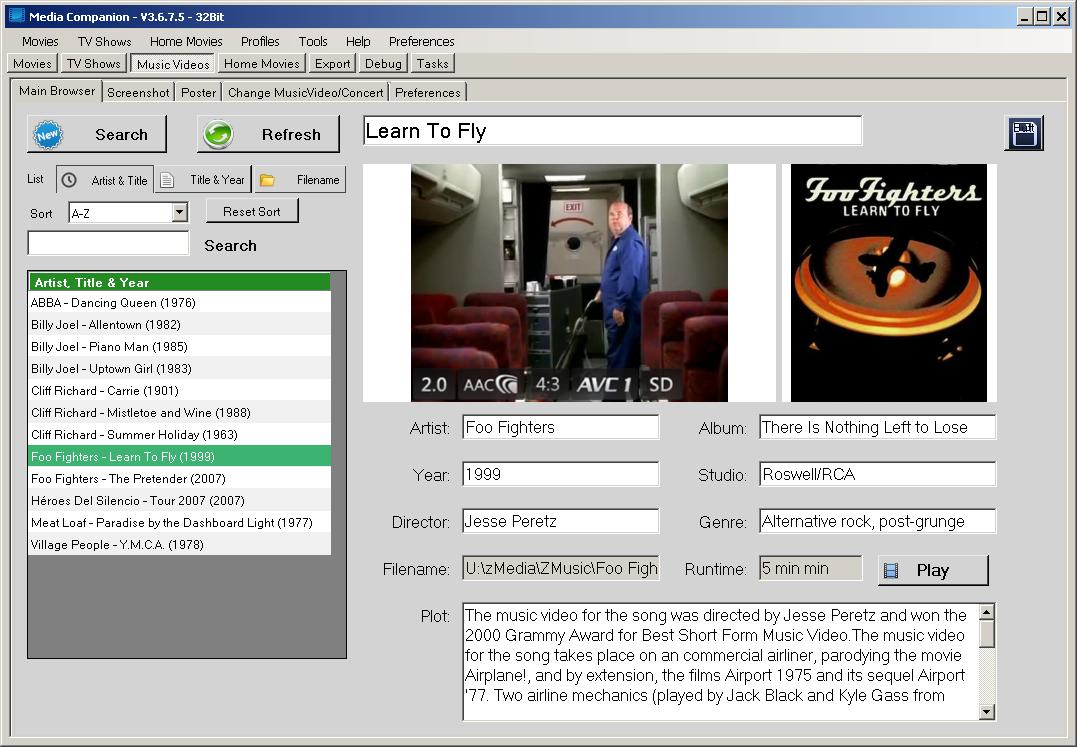 Music Video features:
Music Video clip scraped from Wikipedia, IMVDb, or TheAudioDb.

Music Video Concerts scraped from TheMovieDb

Full editing of any content scraped, or blank.

Screenshot for Fanart. Automatically during scrape, or manually via Fanart Tab.

Attempts to download Poster if available, else Google search and paste either url or copied image.
Scrape from root Music Video folder as <astist> - <track-name>.<extn> or by Artist Folder ie: \<atrist>\<track-name>.<extn>


Command-line function
Use mc_com.exe in a batch file for automatic movie & TV scraping.
mc_com.exe -m Scrapes metadata for new movies
mc_com.exe -e Scrapes metadata for new TV episodes
mc_com.exe -x Export Movielist as html selected template
adding -v to the end of the command runs mc_com.exe in 'Silent mode' - no Console window. Instead mc_com.exe will write all output to "mc_com.log" file. See Documentation Link

Known Issues:
Some, but getting fewer and fewer. Please see the To Do List
.NET Requirements:
Media Companion requires .NET 4.0 Client. If you prefer, the Full .NET Framework can also be used.